From all of us at Intellis, Happy World FM Day! Today we celebrate facility management professionals worldwide!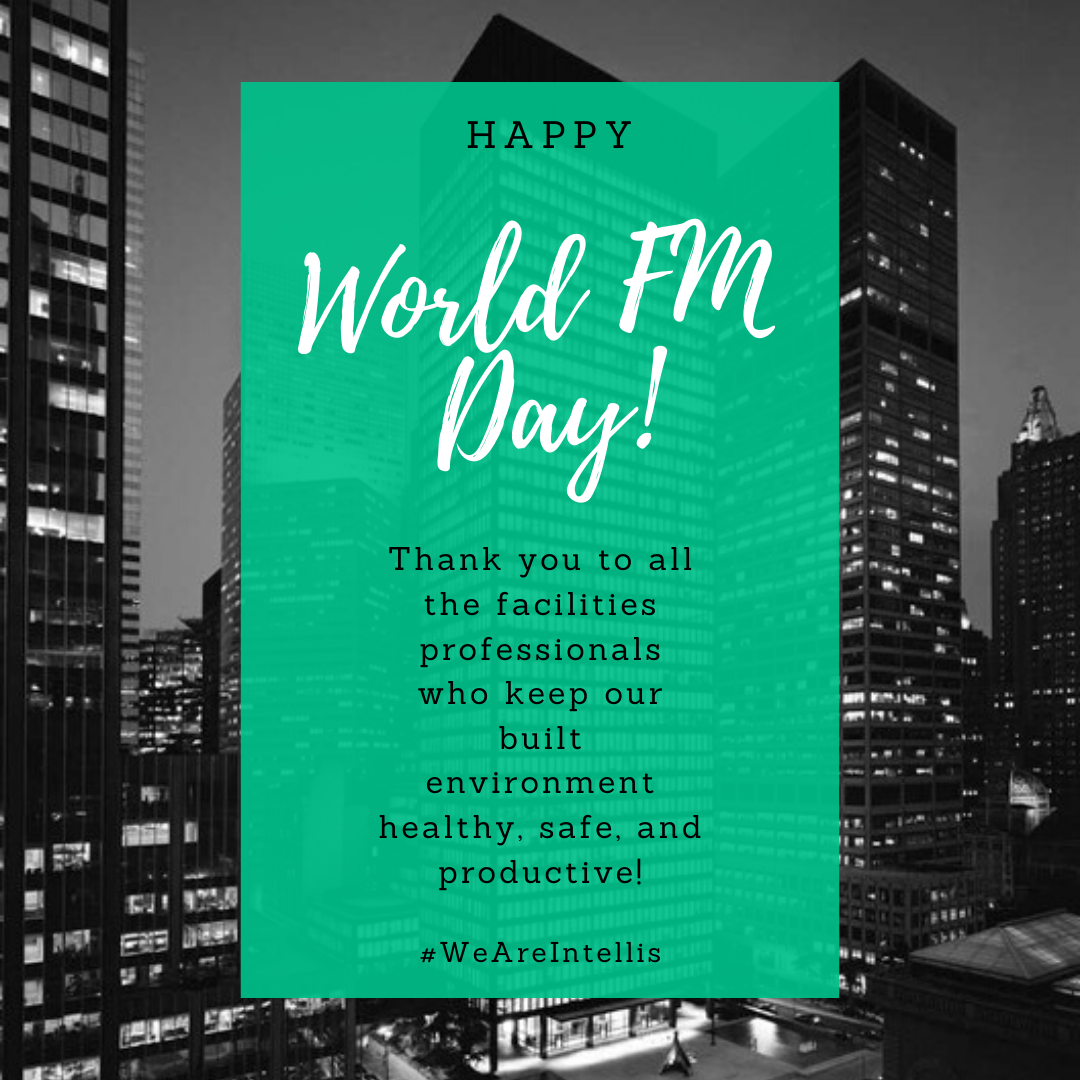 Thank you to all the facilities management professionals who keep our built environment healthy, safe, and productive everyday!
The purpose of World FM Day is to recognize all the vital work that facilities management professionals and the facilities management industry contribute to businesses and organizations worldwide. It aims to raise the profile of the facilities management profession across all industries where facilities professionals influence the health, safety, productivity and well-being of the people who utilize the built environment.
From Hospital and Healthcare facilities to education organizations, from sporting facilities to housing buildings and corporate real estate, the facilities management profession impacts nearly everyone, everywhere in some way.
"World FM Day celebrates the significant contribution that FM makes to the global economy," says Duncan Waddell, Chairman, Global FM. This year's theme is "Celebrating our Environment," which acknowledges which acknowledges our industry's respect for the environment and our continuing focus on sustainability. It also speaks to the intricate relationship between the natural world and the built environment.

Facilities Management is a $1.15 trillion global industry with more than 65,000 professional and industry participants worldwide. World FM Day celebrates the significant contribution that facilities managers and executives make to the global economy and to our built environment!
Discover how Intellis software helped to preserve and improve thousands of large-scale high-rise public housing buildings in NYC.
Here at Intellis it is our mission to empower facility leaders with solutions that make collecting data for facility condition assessments and capital planning a whole lot easier. Our best-in-class facility and capital planning software is your tool for smart, confident decision-making. Our mobile enterprise systems are applicable to many fields and industries, from government and education to corporate real estate and construction.
At Intellis, we empower facility professionals to manage and plan for healthy building and infrastructure operations while also reducing costs, improving productivity and boosting sustainability.
Listen to CEO Steven Warshaw talk about bringing new technologies together in a meaningful way on the FM Innovator Podcast.
We know that facility managers are tasked with balancing increased productivity demands with constraints on time and budget. By implementing an enterprise facility management solution such as Intellis' FOUNDATION Solution, facility managers are empowered to improve both the financial and operational outlook for their organizations.
Our cloud-based conditions assessment, project management, and capital planning software empowers you to optimize decision-making, manage risks, and build for the future of your facilities.
We are here to help. Schedule a meeting with us to learn more!