Now more than ever is the time to ensure you have a comprehensive emergency preparedness plan. The COVID-19 pandemic continues to evolve and impact the way all facilities—from Government to offices to schools to Colleges and Universities—are used and managed.
So today we continue on to Part 2 In our four-part blog series about the essential phases of emergency management planning that Facility Managers should consider when developing an Emergency Response Management (ERM) Program in order to prepare an organization for unexpected events.
In this blog we will discuss the second phase: Preparedness. View Part 1 on Prevention and Mitigation here.
Prevention-Mitigation
Preparedness
Response
Recovery
Preparedness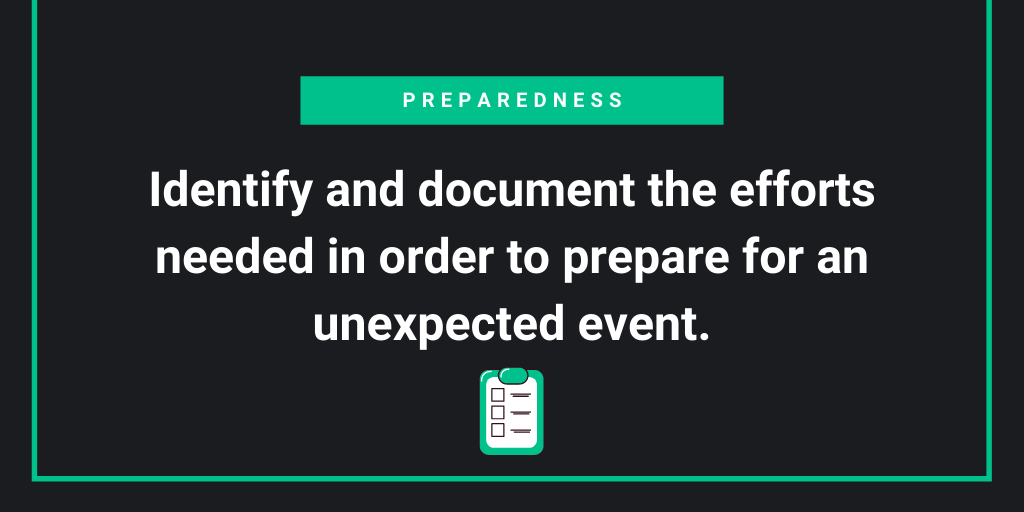 Preparedness refers to the plans or procedures designed to save lives and minimize damage to physical assets when an unexpected event or emergency occurs. Planning and training are essential in the preparedness phase. The procedures ensure that when a disaster occurs, your organization's emergency personnel and Facility Management teams are equipped to provide the best response possible.
Contact us to learn how Intellis software can can help you develop an Emergency Response Management program.
The Preparedness phase is intended to design and test strategies, processes, and protocols in order to prepare the organization for potential emergencies.
Establish

an incident command system that is consistent with the National Incident Management System (NIMS) for organizing your organization's personnel and services to respond in tandem during an emergency.
Develop

all-hazard policies, procedures, and protocols in collaboration key stakeholders outside of your organization such as law enforcement, medical services, public health, and fire services.
Negotiate

contracts that will could provide your organization with essential resources such as food, transportation, medical services, and volunteers.
Assign

personnel to manage each function of the incident command system and defining lines of succession in the emergency plan in regards to who is responsible in the event that key leaders are unavailable.
Read our guide to improving your preventive maintenance program.
The implementation of an Emergency Response Management program is a proven strategy to help your organization maintain business continuity in the face of unexpected events.
Schedule a demo with our experts to learn how we can make your job easier!