Facility managers have to be ready for anything from bomb threats to flooding, labor strikes, workplace violence and so much more. Particularly while the COVID-19 pandemic continues to evolve and impact the way facilities are used and managed, now more than ever is the time to ensure you have a comprehensive emergency preparedness plan.
In this four-part blog series, we will discuss the 4 essential phases of emergency management that Facility Managers should consider when developing an Emergency Response Management (ERM) Program in order to prepare the organization for unexpected events.
Prevention-Mitigation
Preparedness
Response
Recovery
What is Emergency Response Management?
ERM or Emergency Response Management is typically a group of documented procedures that explain how the Facility Management team should respond depending on the situation.
Schedule a demo with our team to learn how Intellis software can can help you develop an Emergency Response Management program.
Generally, an Emergency Response Management plan will include checklists for categorizing potential emergencies, identifying and determining how resources will be used, as well as training that includes preparing, rehearsing, and testing these plans.
Part 1: Prevention-Mitigation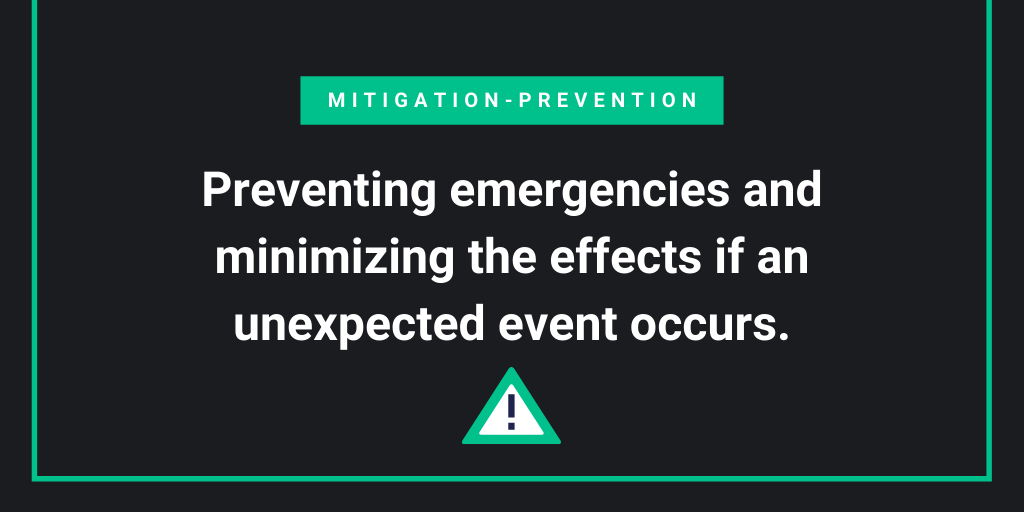 Prevention and Mitigation is the first phase in emergency management. Prevention refers to the action taken to decrease the likelihood that an event or crisis will occur. Mitigation is the action taken to eliminate or reduce the loss of life and physical asset damage related to an event or crisis, particularly those that cannot be prevented.
Read our blog about climate resilience for healthcare facilities management.
The hazards the Facility Management department should seek to prevent, diminish, or mitigate can be defined more specifically through a process of hazards identification and risk assessment. A risk assessment is a process whereby facility managers can more thoroughly understand and identify the potential threats, the current level of preparedness, and the improvements that are required.
According to a recent Facility Executive article, these three key factors form the "foundation of the emergency response plan". These assessments can be conducted through research, surveys, test phases, and other methods, and there are 3 main reasons to conduct a through risk assessment:
Evaluate

any credible threats and hazards
Identify

vulnerabilities and any consequences of those hazards
Document

and report the risk assessment findings and provide recommendations for next steps
After identifying potential risk scenarios during the Prevention-Mitigation phase and the risk assessment is conducted and evaluated, FM teams can then develop a comprehensive emergency response plan that will address these potential hazards and risks.
Read our guide to improving your preventive maintenance program.
The implementation of an Emergency Response Management program is a proven strategy to help your organization maintain business continuity in the face of unexpected events.
Schedule a demo with our experts to learn how we can make your job easier!