FOUNDATION.Conditions provides forward-thinking organizations a new way to work digitally with an emphasis on accuracy and efficiency.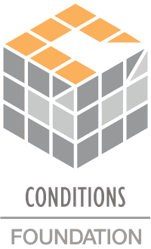 FOUNDATION.Conditions creates an economy of actions in the inspection process. By digitally implementing inspection procedures and transmitting data instantly, organizations can quickly develop custom-tailored work processes that are sustainable and efficient. Employees are never out of touch, executing industry and company best practices through the use of their Mobile Assessment Guide.
Organizations can rapidly deploy proven facility condition assessment workflows in order to collect reportable data efficiently and accurately.
Proven to effectively execute tailored inspections, including facility condition assessments, sustainability, energy consumption, building code compliance, and health and safety regulations.
Real-time reports are generated every second, all while viewable by the home office, businesses experience control over their work processes like never before.
Identify deficiencies and easily access data in one place so you can evaluate it and understand the cause of deferred maintenance and slow backlog accumulation.
With FOUNDATION.Conditions's industry-leading device interoperability, organizations can deploy the program on iPads, iPhones, Tablets, Windows Mobile, and more. Above all, FOUNDATION.Conditions is easy to use. Organizations can configure inspections via a drag-and-drop questionnaire developer, deploy data to mobile devices, and allow technicians to operate them within their defined workflow.