What is the Goal of Capital Budget Analysis?
In general, the goal of capital budget analysis is to put various numbers into perspective. It provides context to the costs of physical assets against your organization's overall budgetary requirements.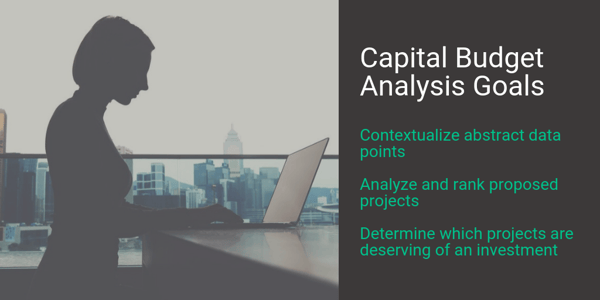 This type of analysis will help you to make decision about which projects to fund and which to defer. It is based on project rankings that are measured against benchmarks as well as each other. If your projects pass the benchmark then they are worth pursuing.
Intelligent software, like FOUNDATION.Plans, can make the Capital Budget decision making process much easier. Our platform includes a system that associates costs with building deficiencies, ranks prioritization of construction projects, and performs in-depth analysis reporting. These reports are an essential element in helping facility managers prove to the CFO or other key financial executives that the projects they want approval for are critical for the long-term health of the facility.
For example, we have worked with the New York Department of Education (DoE) and the School Construction Authority (SCA) since 1998 to implement a system that performs comprehensive costing for the annual school construction budget. Our solution, FOUNDATION.Plans, allows the DoE to generate comprehensive reports based on specific SCA requirements, and our costing calculation software enables report generation based on inspection deficiencies.
Their Five-Year Capital Plan, which regularly encompasses $14 to $16 billion in project planning, requires that assessments are performed across the entire network of the City's 1,700 public schools. After receiving inspections, the agency determines which problems to fix, how much each project will cost, and how long they will take to implement. Prior to working with Intellis, this process was arduous, inefficient and often inaccurate.
Deficiencies found through the inspection process (using facility condition assessment software, FOUNDATION.Conditions, also developed by Intellis) are costed and prioritized using the Deficiency Costing Prioritization system. This system allows the DoE and SCA to manage the extraordinary task of prioritizing the deficiencies of 1,700 public schools using built-in algorithms and reporting.
After the implementation of our FOUNDATION Solution, the agency was able to produce a more accurate and transparent 5-Year Capital Plan Amendment, which included an increase of over $1 billion for enhanced educational services and better facilities for the City's more than one million students and the teachers and staff who serve them.
See how our solutions have helped organizations improve productivity, mitigate risk, and simplify long-term capital planning. View case studies.
With the help of FOUNDATION, the DoE and SCA has seen an average increase of $1 billion per year in funding. We are proud to continue working with the DoE and SCA to produce these amendments that to optimize and enhance the capital planning process, so that facility managers can provide enhanced educational services and better facilities, thus securing safe and modern learning environments for students and teachers!
Read the full case study to see how Intellis software helped the NYC Department of Education improve their capital budgeting process.
Interested in speaking to our experts about how we can make your job easier?